Best Used Trucks under $10000 in Texas
Best Used Trucks under $10000 in Texas
What are the Best Used Trucks on a Budget?
How do you find an affordable and durable ride in the Lone Star State?
Trucks are an integral part of the culture and way of life. But trucks are expensive! So let's talk about used and let's talk about used trucks under $10000. Here at Public Auto Auctions, that budget will likely win bids on trucks from before 2010 and with over 125,000 miles.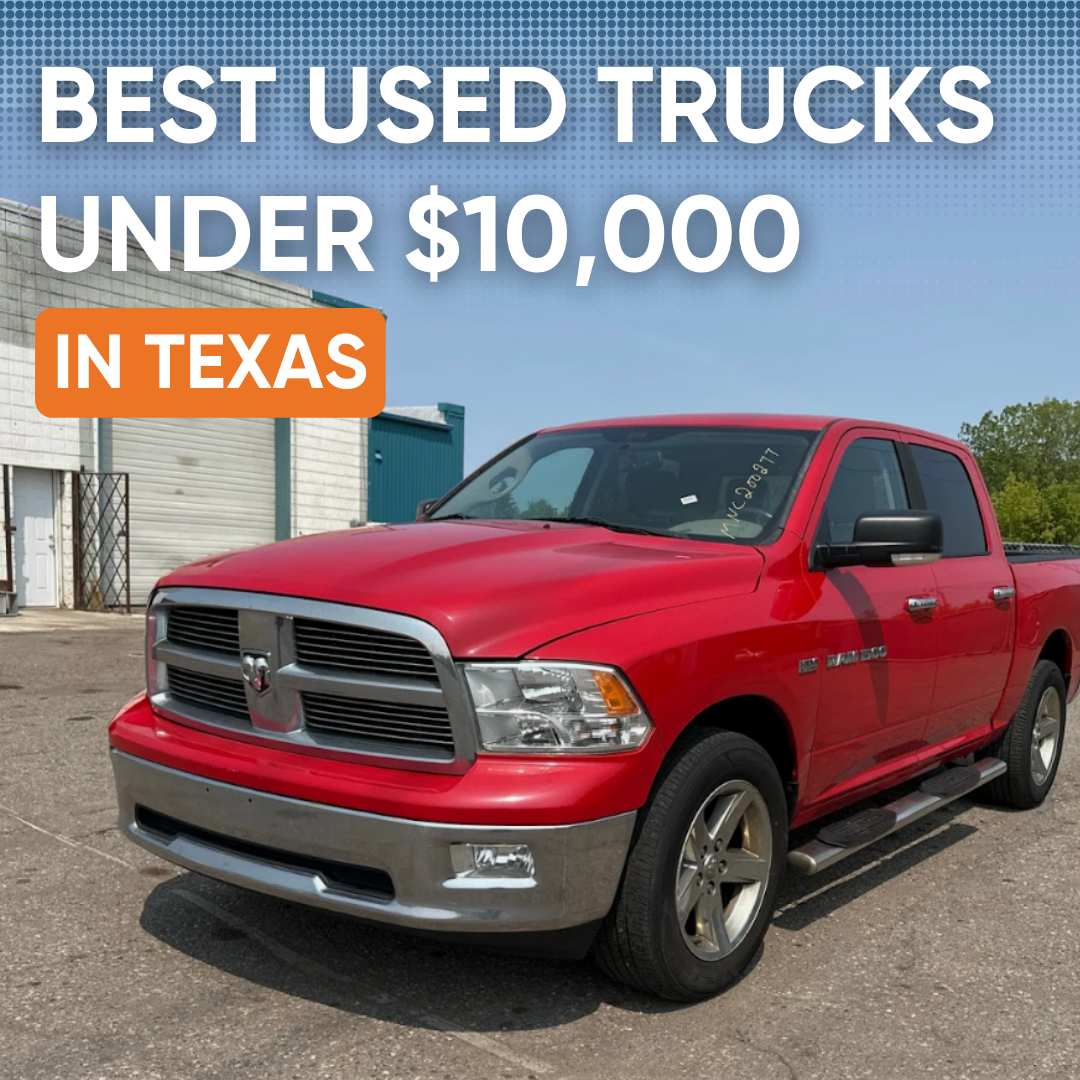 Here's our picks.
Best Used Trucks under $10000
1. Ford F-150
As the best-selling vehicle in America for decades, the Ford F-150 holds a special place in the Texas hearts. Its popularity proves that people trust its durability, versatility, and towing capabilities.
For under $10,000, you'll find models from 10 years ago and older, with 100,000+ miles that have quite a lot of fight left in them. Even if a used F-150 with 250,000 miles from 1998 shows up on our lot, don't discount it.
Whether you're traversing the open highways of West Texas or tackling off-road adventures in the Hill Country, the F-150 can handle the demands of the Lone Star State with ease.
Public Auto Auctions almost always has a selection of used trucks on the lot.
2. Chevrolet Silverado 1500
Another iconic truck that resonates with Texas truck enthusiasts is the Chevrolet Silverado 1500. As a full-size truck, the Silverado offers power, hauling capacity, and a comfortable interior. Within the $10,000 price range, you can find well-maintained Silverado models that are well-suited for both work and leisure activities. The Silverado's strong presence in Texas reflects its reliability and ability to handle the diverse terrains and demands of the state.
3. Ram 1500
The Ram 1500 has grown in popularity due to its ruggedness, towing capability, and upgraded luxury. The smooth ride and cabin comfort makes for a more pleasant road trip through the basin or great plains. Ample power can tow the ATV, trailer, or building materials with ease or handle a climb up the plateau to camp. Keep your Ram well maintained and it won't disappoint.
Models from 2001-2010 with 160,000-220,000 miles can often go for under $10,000, so keep an eye open for those to show up on the lot.
4. GMC Sierra 1500
The GMC Sierra 1500 shares many attributes with its Silverado sibling, but with a touch of refinement. Whether you're cruising through the urban sprawl of Austin or exploring the vast landscapes of West Texas, the Sierra 1500 can be a reliable and stylish choice
For under $10,000 expect to see older models, say before 2005, with a mileage closer to 100,000 or newer models, after 2005, with 200,000 miles or more to keep bids lower.
That doesn't mean you can't snag a bargain on a low mileage newer used truck! 👏
If you're asking, are auto auctions a good deal, we have the answer.
5. Toyota Tacoma
While compact trucks may not be as prevalent in Texas as their full-size counterparts, the Toyota Tacoma is still a popular choice. Known for its durability, off-road prowess, and reliability, the Tacoma can handle the rugged swamps, trails, deserts, and hills that Texas has to offer.
Look for early 2000s models with mileage over 150,000. Anything better, and you have a bargain on your hands, but bidding will likely be fierce.
Consider your needs for your truck, be sure to inspect any truck you're interested in, and test drive, test drive, test drive! Sometimes, especially when all the options are solid, it comes down to the feel of the car and the moment you just know.
If you're on an even tighter budget, we have recommendations for the best used cars under $5,000.
We can't wait to see you. If you want to know more about our auction before you start bidding on your next used truck, read through our FAQs.