A Texas Used Car Checklist
A Texas Used Car Checklist
What to look for when buying a used car in Texas?
Buying a used car is fraught with emotional highs and lows. There might not be any getting away from that. But, it can be easier.
To secure a good deal and a good used car, Public Auto Auctions recommends a full inspection of the car before bidding.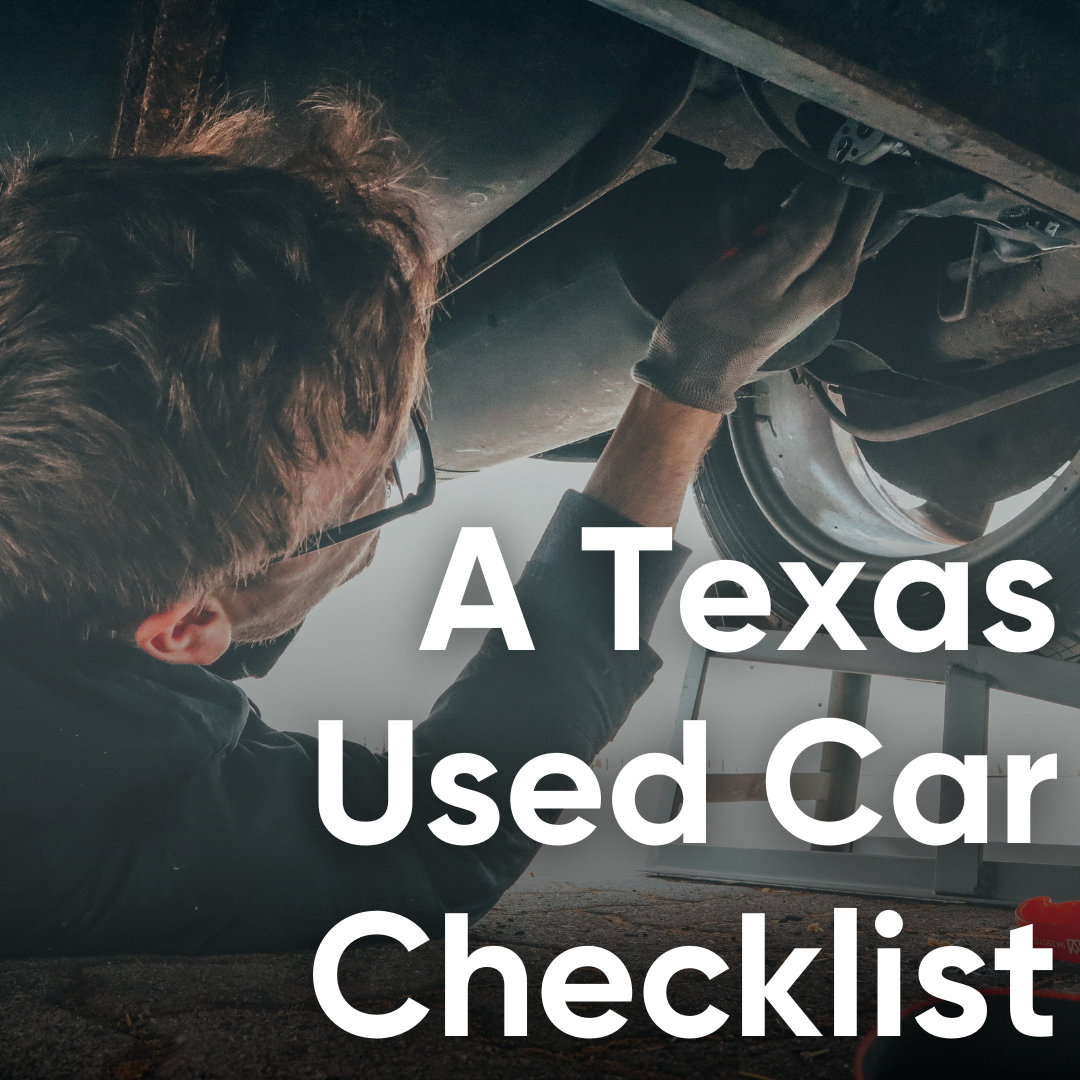 In Texas, it's what we call "kicking the tires". But what things do you look for? In this article, we have a used car inspection guide that will help you when you pay the lot a visit.
Public Auto Auctions is an online only auto auction based here in Kyle, Texas, every Saturday at 10 am. Get started by checking out our inventory of used cars, trucks, motorcycles, campers, RVs, and boats!
Alright, what makes a good used car checklist? We've got you covered! Feel free to print or download it and take it with you to the lot!
Public Auto Auction's Used Car Buyer's Checklist
1. Car Exterior
A car's exterior can reveal a lot about its condition.
Signs of damage, such as dents, scratches, or rust. ______

Body panel condition: aligned, paint matches. ______

If you notice any discrepancies, it may indicate that the car has been in an accident.

"Kick the tires!" Check tire condition, including tread depth and wear pattern. ______

Uneven wear may indicate an alignment issue or other problems.

Check the condition of the headlights, taillights, brake lights, indicators. ______
2. Car Interior
Next on your used car inspection checklist is the interior of the car.
Inspect the seats, carpets, and dashboard for any signs of wear and tear, such as stains or tears. ______

Test all the buttons and controls, including the stereo, air conditioning, and heating system. Note ones that don't work. ______
3. Car's Engine
Do we have to say the engine is important? While driving up and down hills may not be a concern, driving in Texas means your car endures a lot of heat.
A used car inspection checklist is never complete without a good look at the engine.
Check the oil level and look for any signs of leaks or rust. ______

Check the transmission fluid level and inspect the belts and hoses for wear and tear. ______

If you notice anything that looks out of place, it may indicate an unreported problem or that the car has not been maintained properly.

Remember to listen to the engine. How it sounds when it starts, when it's running, and when it's accelerating may reveal unseen issues. ______
4. Undercarriage
The undercarriage of the car is often overlooked, but it can tell you a lot about its condition. Texas-sized potholes, road debris, and other hazards can leave their mark.
Check for any signs of rust or damage, including the exhaust system and suspension. ______

If you notice any problems, it's important to have them fixed before they become bigger issues.
5. Test Drive
A test drive is critical to your used car checklist. This is how you "feel" the car.
Pay attention to how the car handles, especially when accelerating, braking, and turning. Note problems. ______

Try to take note of any unusual sounds, rattles, squeaks, clinks, or vibrations. ______
6. Vehicle History
Finally, it's essential to see a vehicle history report. You want to know when the last timing belt change, oil change, brake pads change, and transmission fluid change were. These reports often show past accidents or damage from a Texas-sized flash flood, brutal winter, or long desert commutes. ______
It will also provide information about the used car's maintenance and repair history, which can help you determine whether it has been well cared for.
Definitely Don't Buy a Used Car in Texas without a Checklist
Before letting your excitement at finding a great used car carry you away, the inspection checklist will save you a lot of time, pain, and potentially money.
Follow this used car inspection checklist to feel a lot better about your purchase.
Remember, it's always better to be safe than sorry when it comes to buying a used car, so take your time and don't rush into anything. With a little patience and diligence, you'll find the perfect used car for your needs.
Come by Public Auto Auctions and say hi, check out the lot, and prepare to bid! Check out our calendar.
We're located at 12253 Camino Real, Kyle, TX 7864