Top 7 Instagram Car Accounts for Car Lovers in Texas
Top 7 Instagram Car Accounts for Car Lovers in Texas
Are you looking for free car repair videos, automotive influencers, car experts, or some entertaining and educational Instagram car accounts? We admit that at Public Auto Auctions, we love the sweet car video and photo now and then. Maybe more than now and then.
Here is a list of our top 7 automotive influencers to follow on Instagram!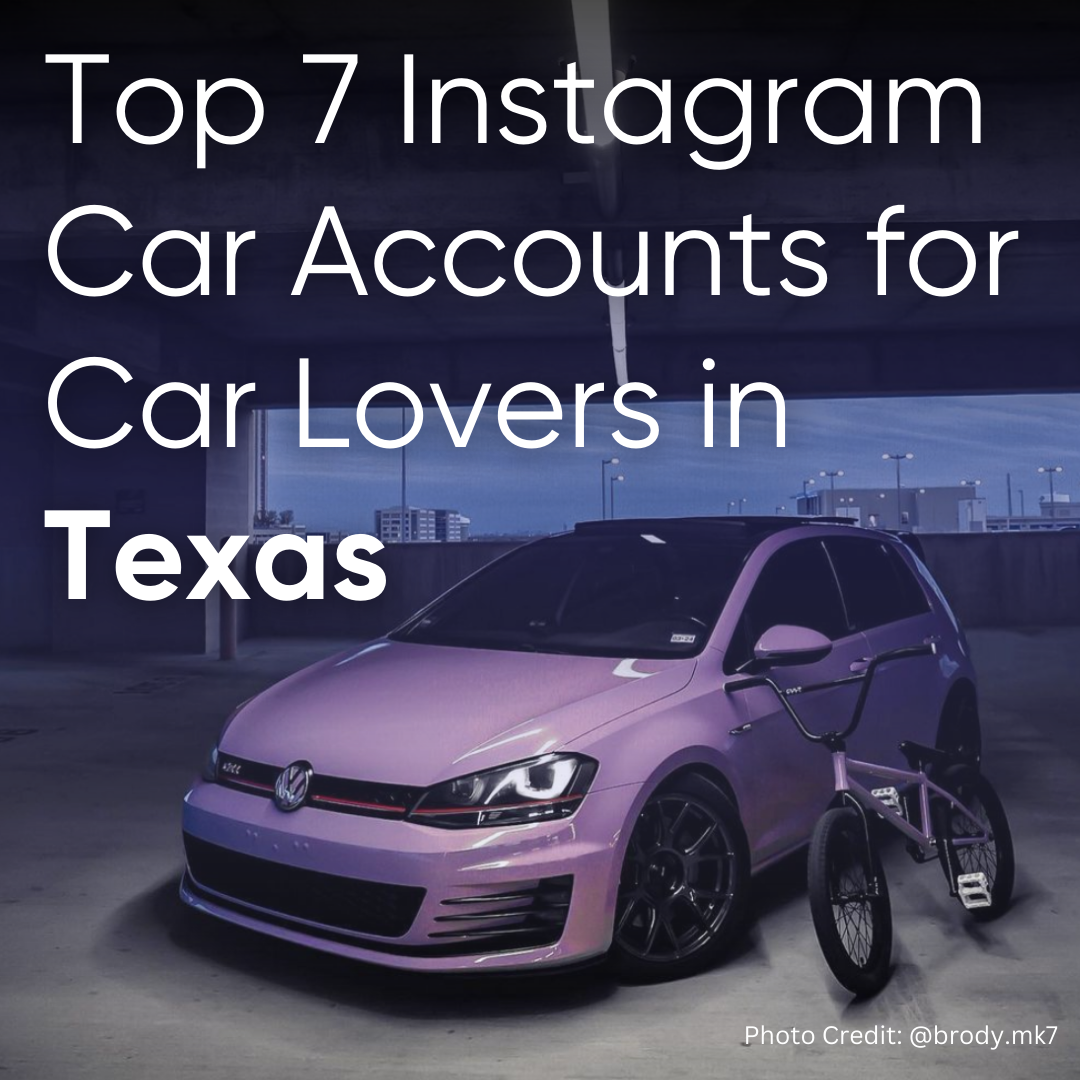 Muhammad AbdulWassay is a published car photographer who brings the best of his work straight to your feed. If you love to see cars supercars at their best, you have to give Muhammad a follow. The best part is, he is local to Texas. So you may get a chance to pass by the super cars in his photos.
If purple is your favorite color, then this is the account to follow! Brody's feed is all about his purple mk7 cruising all over Texas. He also sprinkles in funny videos about his experience having a purple car.
A lover and builder of cars, and Houston native, Karim puts his considerable talents to work on machines we can appreciate. His latest project is an Audi R8 V1.0. This young man is going places.
Here's a U.S. Marine veteran who knows how to use a camera to capture the fast and the furious! He's a media freelancer and car lover. His photo and video work is outstanding and he'll bring the awesome to you. He's just beginning to build his following so give him a follow. 👍
Get a look at all the exotic cars in Texas, courtesy of this account. It's pure awing and gawking over the cross-section of engineering and art, and let me tell you, these cars are quite marvelous.
Have you noticed how purple cars seem to be a theme in Texas? This account shares his experience with his Midnight Purple '93 3000GT VR4. See Texas through a whole new lens… a purple one.
See all the nitty-gritty details of what it takes to have a functioning car. Performance Auto Shop in Downtown Dallas takes you behind the scenes of all their car repair experiences. Their videos are a must-watch!
That's it! Our top 7. Of course, there are tons of car enthusiasts out there with great experiences, tips, and perspectives to share.
If you have a favorite influencer you think deserves a shout-out, let us know!
Remember to browse our used car inventory to find your next garage project, commuter, street racer, off-roader, or cruiser. 😄
Don't forget to follow us on Facebook. Yeah, yeah, we know, we should be on Instagram too!