How to Find Classic Cars in Texas
Where to Find Classic Cars in Texas
Muscle cars, hot rods, the nostalgia from the America of yesteryear, taker your pick. Can you find a class car at an auction lot? We think so. We've had plenty of classics roll through the Public Auto Auction lot. 🚘
Auto auctions, that aren't specifically classic car auctions, might easily be passed over by the classic car hunter, but our lot here in Kyle, Texas often has hidden gem cars. 💎
But first…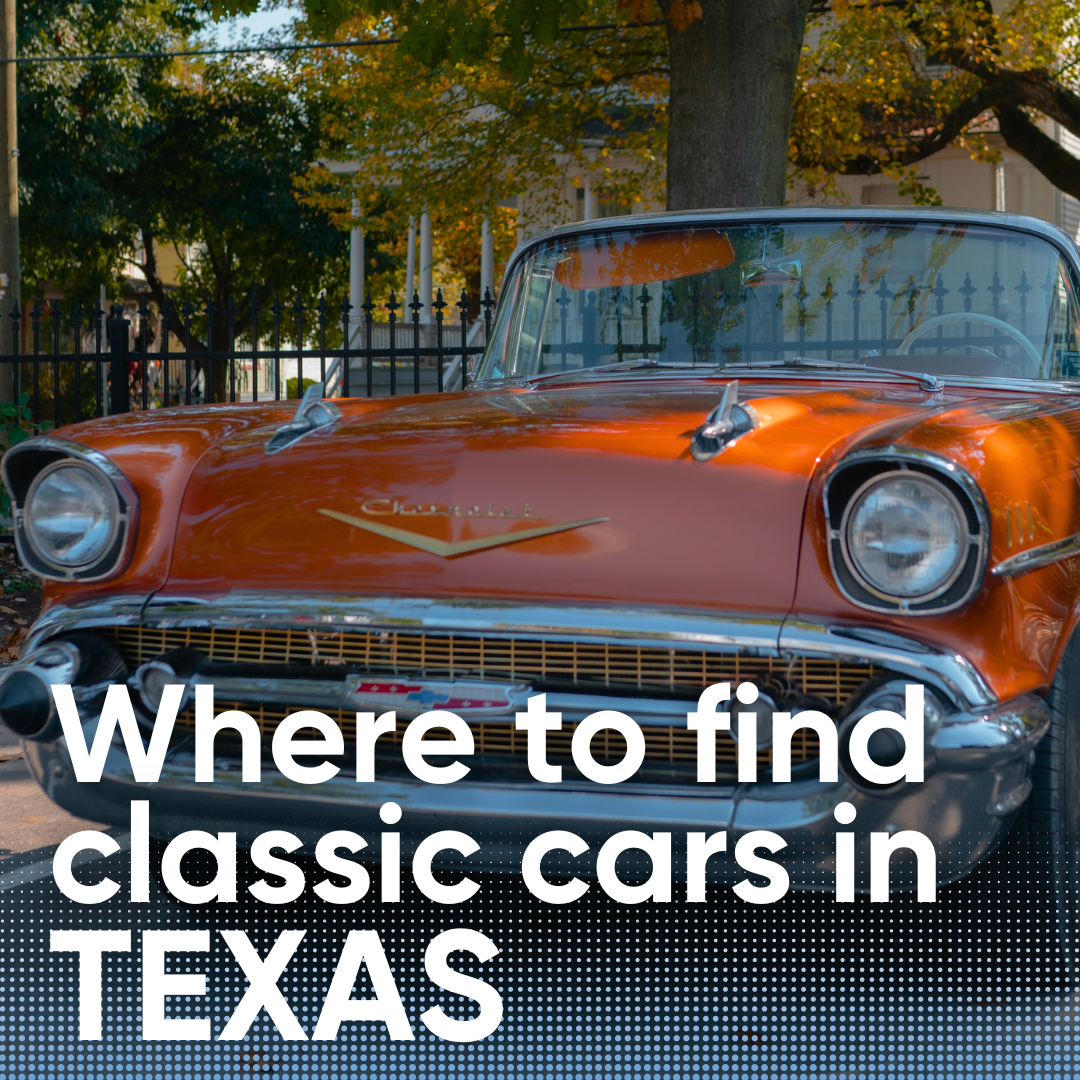 What is a Classic Car?
Not every car gets to be a classic car. As much as you love your 2000 Daewoo Leganza, it's not a 1948 Lincoln Continental. At least, not yet.
So what does a car have to do to make it to the stratosphere of car lore?
1. Age
A classic car is usually older. Yes, there are "instant classics" but they do need to withstand the test of time.
But we aren't just talking about the cars from the early 20th century, like that Lincoln Continental. The 1989 Jaguar XJS, 2004 BMW Z4, original Jeep Wrangler, and others are recent classics or classics in the making.
Classics are usually at least 20-25 years old. As hard as it is to imagine a car from your childhood being a classic, there are many underappreciated classic cars that mean more to one person than another. But no matter the manufacturing year, the classic car has cemented its place in auto history.
A classic car has superseded statuses such as "vintage" or "antique" because of a number of factors, like design, rarity, and historical significance.
Will the term "classic" get stricter? Or looser? Car enthusiasts, collectors, and movie fans will weigh in on what cars truly stand above the rest.
2. Design
Classic cars are quite often recognized for their look. Think of a Ferrari F40, Ford Mustang Shelby GT350, Dodge Viper, but also the 1970 Chevy El Camino SS, and Volkswagen Beetle. 🏎️
But a classic is not only the 60-year-old machine sitting in Jay Leno's garage. The Ford-150 Raptor, Nissan GT-R, Honda S2000, Dodge Challenger, Cadillac CTS-V Wagon, Mitsubishi Lancer, and more, are likely within reach and often appear on our lot.
A hidden gem car might be waiting for you! Browse the inventory.
3. Historical Significance
When you think of a classic car, you have to think about the car's impact on the industry. Did it revolutionize design like the early hot rods, the Mercedes-Benz 300 SL, the Jaguar XK120, the Austin-Healey 100, Mini Cooper, BMW 2002, Honda Civic, or Mazda Miata?
Was it the first of its kind, like the Prius for Hybrids, or a trendsetter like the Lamborghini Miura for supercars? The BMC Mini set the template for mass-produced cars, and Tesla changed the world of electric cars forever.
While you likely won't find a Miura or a BMC on our lot, you may just find a classic, like the Lexus RX300, Chevy Volt, Ford Explorer, and others that make their own sizeable mark on the industry.
4.

Rarity
Any car that was beloved, but limited in production, is bound to become a classic. Think of the Lancia Stratos, AC Cobra, Datsun 240Z, Chevrolet Corvette 1963, Aston Martin DB5, or the Ferrari 250 GTO.
If it's rare and not a lemon, it's probably a classic. Even if it is a lemon, there's a chance a cult following developed. Think of the Nissan GT-R. Or the DeLorean DMC-12, made famous in Back to the Future, despite mechanical problems in reality.
Or how about the Amphicar, Corvair, Gremlin, or Pacer? Don't we just love to hate these cars? You know the phrase "so bad, it's good"? 😆
Where are Classic Cars Sold?
Did we mention you can find them right here at Public Auto Auction? We probably did.
Classic car shows are a "classic" (sorry, bad pun) way of finding these beloved vehicles. You can also search for classic car dealerships specifically.
At the time of this writing, there were dozens of classics in the making on our lot manufactured in the 80s, 90s, and at the turn of the century.
Whether for a project, a collection, or just to enjoying driving a famous car, part of the thrill of auctions is finally finding that hidden gem.
Here's to your next classic!