What kind of cars are sold at auctions?
What kind of cars are sold at Texas car auctions?
When you hear "auto auction in Texas", what do you picture? 🤔
Is an auto auction where you buy classic cars, like a 1955 Ford Thunderbird, 1961 Lincoln Continental, or 1969 Chevy Camaro? Perhaps an auction is only for supercars, like Lotus, Bugatti, or Koenigsegg. 🏆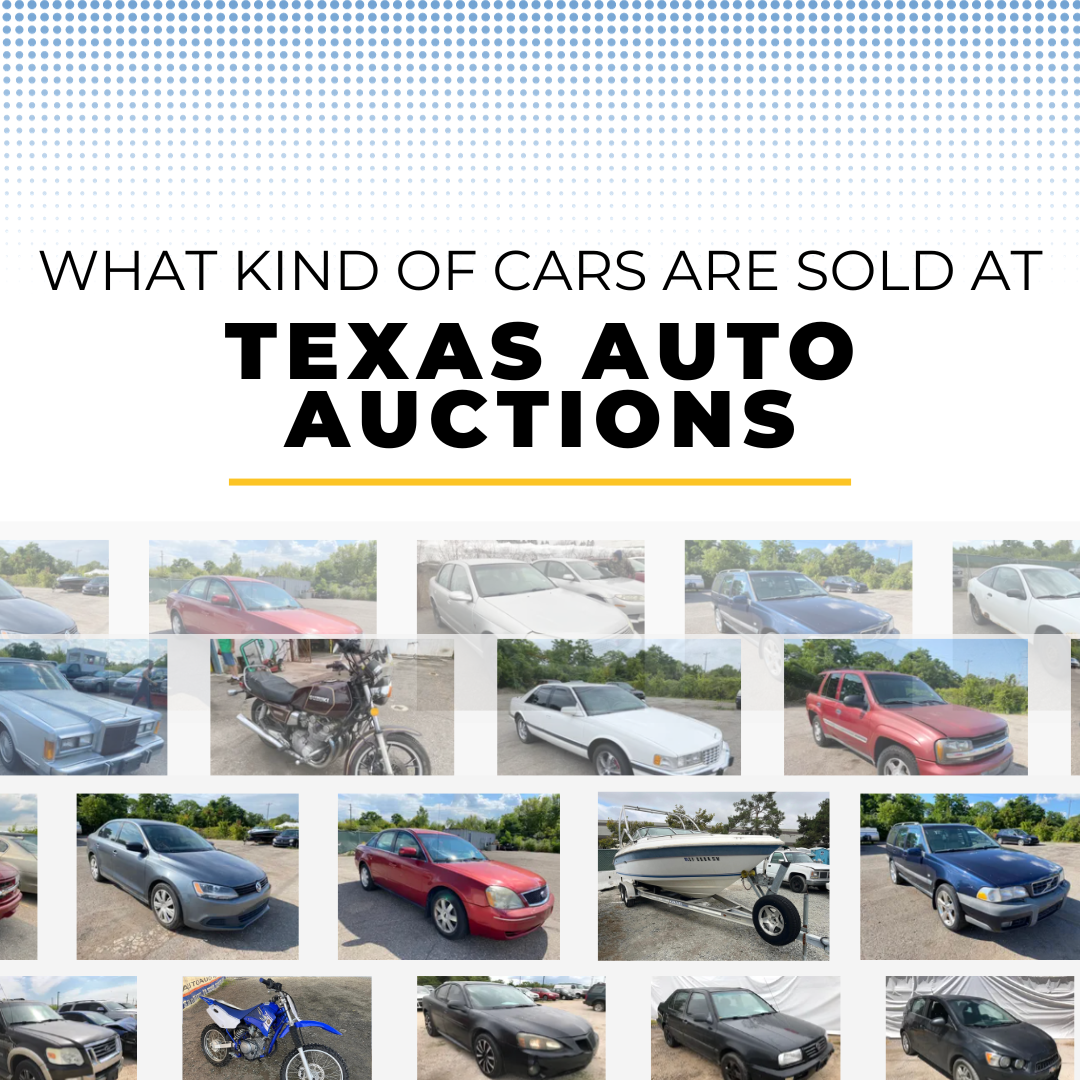 Many people might have the opposite visual in mind; a scrap heap! Yeah, auto auctions are where junk cars, lemons, and rust buckets go to be torn apart for parts. I bet that many Texans have not considered a car auction when looking for their next used car. 🚙
Did you know auto auctions are a remarkable place to find running, everyday mainstream used cars? That's right. You don't have to go to a used car dealer. Auto auctions often have better prices and more transparent condition reports!
Your next pickup truck or family minivan, project, classic, or even spare part may be sitting right here at Public Auto Auction in Kyle, Texas. Check out our inventory! 🔍
Here's a short list of the variety of vehicles you'll find at Public Auto Auction.
1. Classic Beauties: The Timeless Allure
Classic cars are the crown jewels of classic car auctions. These automotive legends, steeped in history and craftsmanship, are the stars of the show.
Whether it's a meticulously restored '65 Ford Mustang Shelby GT350 or a vintage Land Rover, classic cars command attention and often fetch top dollar. Collectors from around the world will flood classic car auctions for a chance to add one of these legends to their garage. 🏎️
But you don't have to be a gazillionaire or fly across the planet to find a classic here in Texas. These gems, often hidden under layers of time, once in a while show up on our lot.
Read more about how to find a classic car in Texas.
2. Modern Marvels: The Latest and Greatest
Auto auctions reach into the past but aren't stuck in the past. Public Auto Auction has used cars, that frankly aren't that used and only a few years old. We have makes and models from well-known automakers, and for all types of driving needs. 🛞
It's not uncommon to find luxury cars, sports cars, and even electric vehicles gracing this Kyle Texas auction block. Since these cars tend to go fast, if you're in the market for one of these gems make sure you're checking our inventory page frequently!
3. Project Cars: Unfinished Potential
Perhaps you have a passion for restoration or car building. If you love the mechanics under the hood or want to flex that hobby without spending a fortune, project cars are a hidden gem at auctions. 🧽
These vehicles need a bit of elbow grease, but they offer a canvas for customization and personalization. We do our best to list a full condition report on the auction site, detailing if parts are missing, whether the car is running or not, and what to expect.
Have you ever bid at an online auction before? This overview will help!
4. Budget-Friendly Transportation
Auto auctions are definitely not just for high-end collectors, dealers, and car enthusiasts.
Everyday Texas buyers can find what they're looking for with a little patience. We often have some of the most popular mass-produced cars, like Toyota's, Honda's, Nissan's, Ford's, Kia's, Hyundai's, Jeep's, and more passing through our lot every week. 💰
Many of our cars have been donated and are in better condition than other auctions and many used dealerships. It's a cost-effective way to get behind the wheel of a dependable vehicle. Most bidders aren't looking for bells and whistles. They need a dependable vehicle they can count on for commuting, hauling, or vacations.
5. Specialty Niche Vehicles: Quirky and Unique
What else could an auto auction have besides Toyota Camry's, classic Ford's, and a Corvette occasionally?
Public Auto Auction also serves the niche markets. We have motorcycles, 4-wheelers, jet skis, trailers, off-road vehicles, retired police cruisers, RVs, and even lake-loving boats! 🛥️ It's sort of in our name (carstrucksandboats.com) 🙂
You won't find this kind of variety at a used car dealership. When you visit our inventory, filter by "vehicle type". 🛵
6. Commercial and Fleet Vehicles: Business Solutions
Not only do we auction off the odd and quirky, we can meet business needs. Our inventory usually includes commercial and fleet vehicles, such as cargo vans and trailers.
Just like our cars and trucks, Public Auto Auction stands by our commitment to helping charities benefit from auction bidding. That goes for individuals and enterprises alike.
Texas is a big place. Public Auto Auction meets lots of different needs with lots of different vehicles. No matter your taste, preference, or budget, we will often have something that works for you. 🏍️
Auto auctions are not only for classic cars and super cars. Whether you're a collector, dealer, enthusiast, builder, or just a person who needs a car to go from A to B, our Texas auto auction can serve you well.
Now you may be wondering, "Is there a car auction near me?" If you are near the Kyle area, stop by. We're at 12253 Camino Real, Kyle, TX 78640. We'll see y'all there! 🎉