Used Trucks with the Best Gas Mileage
Older Trucks with the Best Gas Mileage
So, you want a truck. Maybe a used truck? Maybe a powerful truck? A comfortable truck? A used make and model will save you money, especially if you come to Public Auto Auction here in Texas.
Perhaps you wonder how much money you'll sink into that pesky pump because of your used truck. ⛽ Well, even certain 90s and early 2000s trucks had decent fuel efficiency. You just need to know what to look for.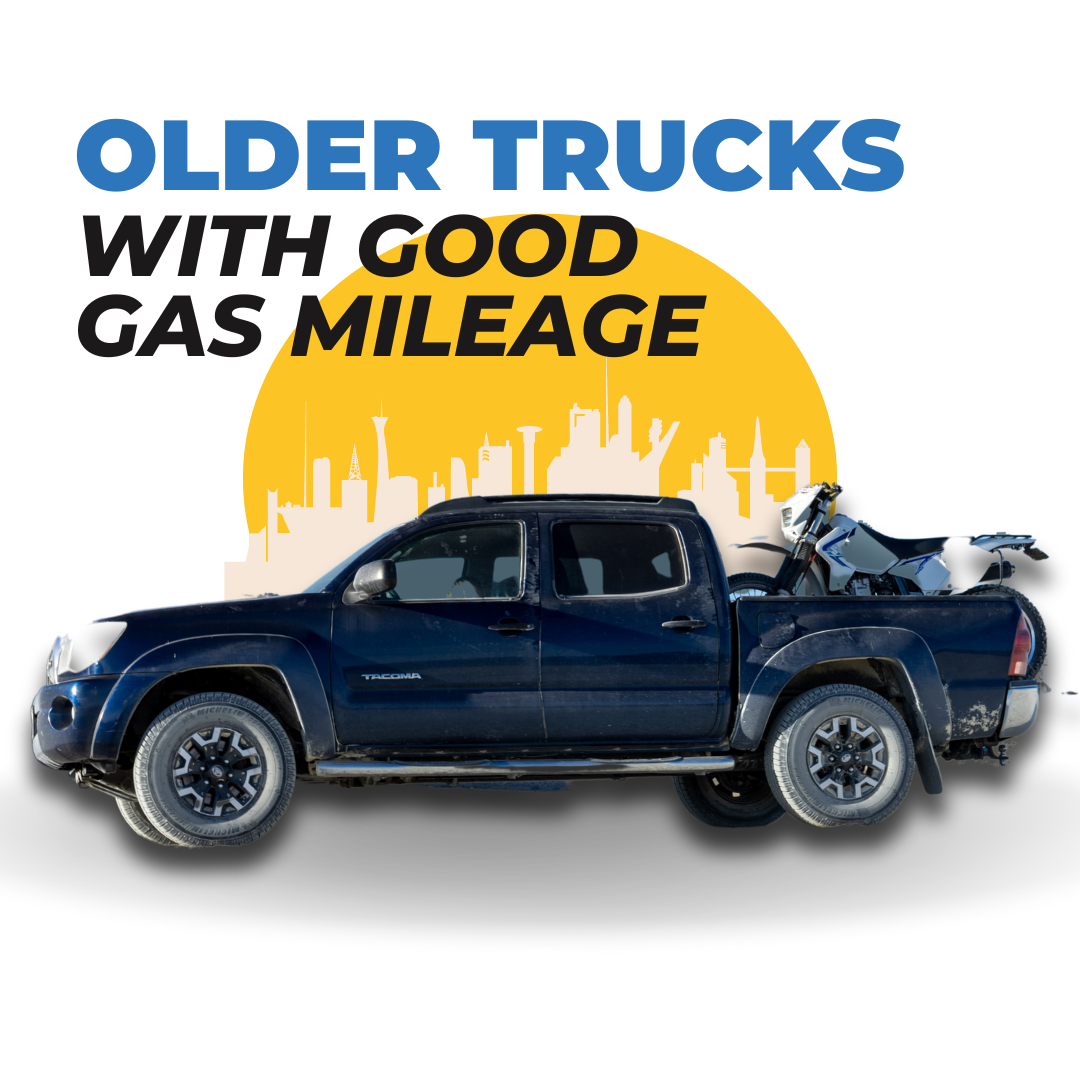 Here's an overview of older trucks with the best gas mileage that you'll find at Public Auto Auction. By the way, we aren't talking about 10 or 15 MPG, no, no. We're talking at least 20 MPG combined city/highway. 🛻
Compact Pickup Trucks
Let's start with compact trucks with great gas mileage. The Ford Ranger should be on your list. When browsing our auction lot inventory, look for 2009–2011 models, where you can earn up 26 MPG combined.
Even late 90s and early 2000s Ford Ranger's can still earn up to 22 MPG.
Remember the Mazda B-Series? Don't overlook it. For those of you not familiar with this truck, early 2000s models, particularly the manual 5-speed, earned 23 MPG combined.
The late 90s Dodge Dakota Pickup has earned up to 20 MPG combined city/highway.
Midsize Pickup Trucks
A solid midsize fuel efficient offering from Chevrolet is the late 90s, specifically the 1997, Chevy S10 with a combined 23 MPG.
Another reliable Chevy truck is the Chevrolet Colorado. 2016 models will earn 24 MPG combined, and older, more affordable models between 2009-2012 earn 22-24 MPG combined.
Browse our Chevrolet inventory!
The GMC Canyon boasts a similar performance to the Chevrolet Colorado. 2009–2016 models average around 24 MPG combined highway and residential.
Let's not forget the Toyota Tacoma! Known for their reliability and decent fuel efficiency, the 2009–2013 models offer a good balance between fuel economy and capability, earning upwards of a fantastic 26 MPG! 🙌
What about Nissan? Yep, the Frontier, while not the most fuel-efficient, is a very affordable option. Early 2000s models and prior are often found at our auto auction and can get you 20-22 MPG.
Full-size Pickup Trucks
The hefty 2015 Ford F-150 claims an impressive 26 MPG combined, which is the best among 2009-2016 models. 👏
The Chevrolet Silverado Hybrid 2005-2013 models earn a sightly better 23 MPG than the standard model's 21 MPG. The 2009, especially, is a great choice. These are big trucks, so 21-23 MPG is a keeper!
The GMC Sierra Hybrid 2009-2013 models improved slightly better than original models at around 20-21 MPG.
The 2015 Ram 1500 EcoDiesel gets a whopping 30 MPG highway and 24 MPG combined. How about that! ✅The standard models, years 2014 and 2016, are no joke either, performing well in fuel economy.
Another nod has to go to the 2009-2012 Suzuki Equator 4-cylinder which can earn up to 21 MPG combined.
What are the best used trucks under $10,000?
Crossover Trucks
The Honda Ridgeline is often considered a "crossover" truck due to its unibody construction, giving it a slight advantage in gas mileage compared to body-on-frame trucks. The 2017 model especially stands out, earning around 22 MPG combined, 26 highway. 😎
Pickup Trucks Under $5,000
It'll be tougher to find fuel efficient trucks under $5000 since that price likely means an older model, and as we all know, gas mileage wasn't exactly top of the list before the 2000s rolled around.
The most fuel efficient used cars
However, auto auctions often save you money on great cars, over dealers, for example.
As we explained, there are older models, pre-2010, that earn over 20 MPG combined and with a lot of miles logged, say 150,000, you can expect to nab a late 90s or early 2000s Nissan Frontier, Toyota Tacoma, Ford Ranger, or GMC Canyon for under $5,000 at Public Auto Auction.
Stop by and happy bidding! 👍