Electric Cars and Texas Road Trips
Electric Cars and Texas Road Trips: A Charge Toward the Future of Travel
Here in the Lone Star State, we have a lot of room for road tripping, without ever leaving! 🚗
The electric vehicle (EV) revolution is in full swing, and more people are considering making the switch to travel of the electric kind. But, is it efficient? Does it actually compete with traditional gas? 🔌
Let's have a throwdown! EV confidence only comes after reviewing the facts.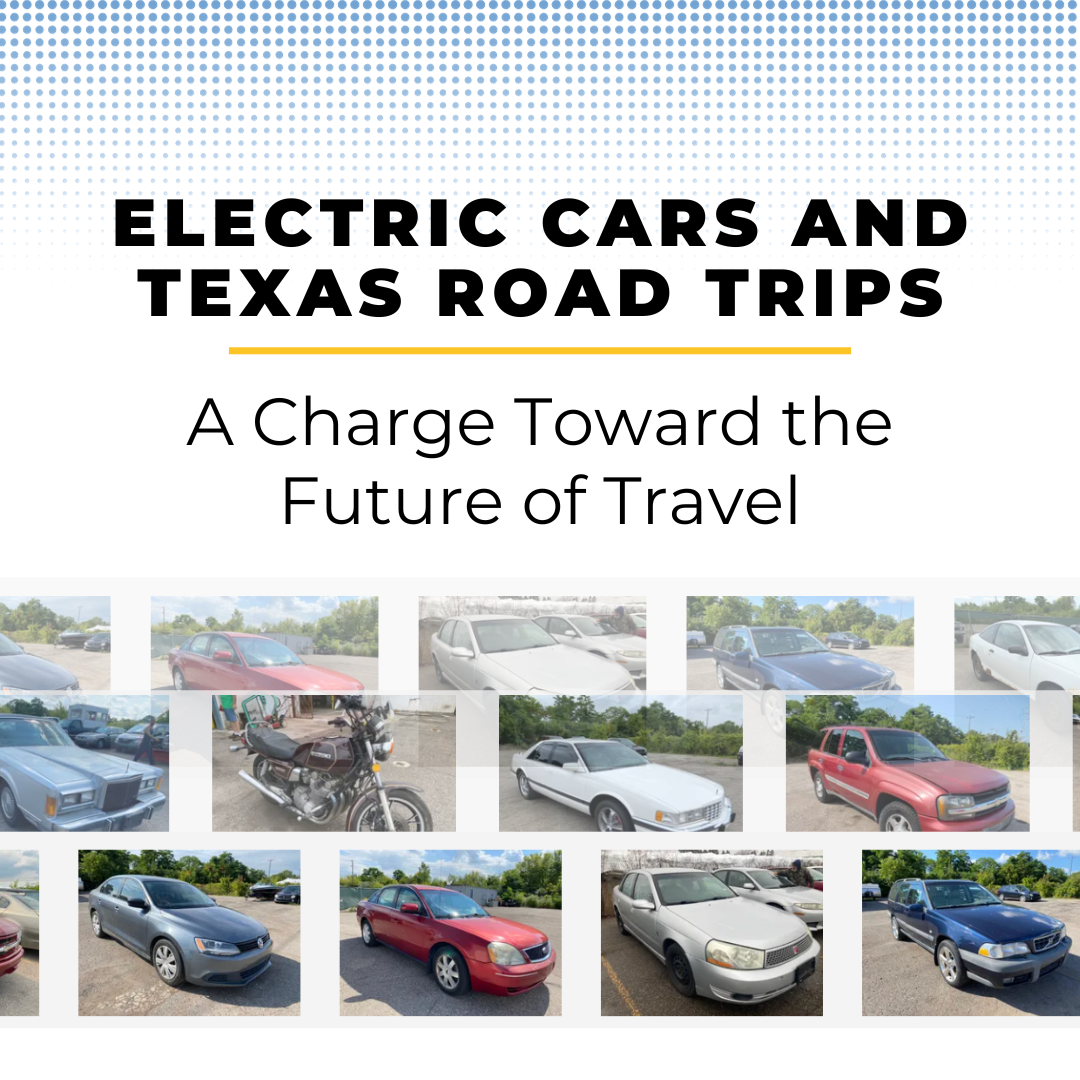 We'll walk through:
Old vs. new electric cars

What's the longest range of Electric Cars?

How long does it take to charge?

Where are the charging stations?

The future of electric
When you browse Public Auto Auction's inventory for electric vehicles, just look for the "fuel type" filter on the left hand side. Fantastic deals on used cars are NOT reserved for the gas types. 😉
Old vs. New Electric Cars
Some history… Did you know that the rechargeable battery came along in 1859? Inventor Thomas Parker built a prototype electric car in 1884-ish. According to the Des Moines Register, William Morrison drove his front-wheel drive, 4 HP electric carriage in a city parade in 1888. It had 24 battery cells and needed recharging every 50 miles.
Electric cars were pricey in the 1920s when the Ford Model T was $300. Experimentation continued down through the 20th century. Read more about EV history here.
For a Texas auction lot, what really matters is that old electric cars, I'm talking pre-2010, are not numerous like their gas counterparts are. The oldest you'll come by on our lot might be an early 2010s Nissan Leaf, Chevy Spark EV, Ford Focus EV, Honda Fit EV, or Toyota RAV4 EV. Maybe a first gen Tesla S rolls in.
Does it make a difference if your EV is older or newer? The short answer is yes. Electric vehicles are improving, by leads and bounds I might add. 💡
But don't count out used cars; gas or electric. That is a mistake. Especially since new electric cars are very expensive, and our auction cars are not. 🤑So what are the differences?
Well, newer EVs generally have larger battery capacities, faster charging capabilities, and (this one is particularly important for the road tripper) are compatible with a broader network of charging stations.
Older electric cars have limited range and slower charging options. That doesn't cancel the road trip, it just impacts the route, number of stops, etc.
What's the Longest Range for an Electric Car?
Range anxiety is real. Electric vehicle range… well, ranges. 😀
There's that creeping, sometimes crippling fear that your battery will run out of juice, and there won't be a charging station for miles. Afterall, TxDOT maintains more than 79,000 miles of farm-to-market, ranch-to-market, state, U.S. and interstate highways. It's very much a similar dread facing all the gas-powered drivers out there. That gasoline fear was abated early on with the building of thousands of gas stations. ⛽
Rapid advancements in EV technology and new charging stations are easing the anxiety over how far to go with an electric car.
Here's a quick list of some long (really long) range electric cars:
Lucid Air: the latest models are topping 516 miles on one charge. That's the best of any EV available.

Tesla Model S: a solid 400 miles on a full charge.

Hyundai Ioniq: 360+ miles

Tesla Model 3: 350+ miles

Mercedes EQS Sedan: 350 miles

Tesla Model X: 330-350 miles

Tesla Model Y: 330 miles

GMC Hummer EV1 Pickup: this hefty truck claims to get over 300 miles.

BMW iX xDrive 50: This mouthful of a name car bests 320 miles on one charge.

Ford F-150 Lightning - yep, it's electric and boasts 320 miles

Rivian R1S and R1T: bet you haven't heard of these! You won't find many used yet. 310+ miles
Not many truly used electric cars on the market yet, including at Public Auto Auction. You might find a few Tesla options. Don't forget about used Mini's, the Chevy Bolt, and the Kia EV6 Wind.
We break down more fuel efficient cars, from hybrids to diesel to gas here.
With a used car running you less than $10,000 under your feet, you can expect 200 miles on a single charge. Perhaps an early Tesla Model S will show up on the auction lot, or a Chevy Bolt or Nissan Leaf, all reaching 200+ miles on a charge.
Definitely know your range, or at least your ballpark 🏟️before you head out.
Planning Your Route:
When road tripping across Texas with an electric car, a little extra planning goes a long way. Utilize EV trip-planning apps and websites that can help you locate electric car charging stations along your route. This ensures you'll have access to charging infrastructure whenever you need it. Remember that some charging stations are faster than others, so factor in charging times.
How long does it take to charge an electric car?
Well, there are levels. Three, and the charge speed is a wide spread. Think of your EV pit stops this way: level 1 is very slow, even with a hybrid. Top off your battery with it, unless you plan to spend all day without your car. Literally. It's only 120 volts you know.
Level 2 is where many EV owners "live". A full charge comes after a few hours, so overnight is a great option, or a hike, a museum visit, stroll through a new downtown, a meal, any activity where you can be away from your car for a while. 🥓 😋
Level 3 is "the Flash" 🏃🦸 of charging, taking less an hour. These are available at certain public stations but also make sure your car can handle this kind of power. We're talking nearly 1000 volts here! ⚡
Many charging stations are strategically placed near restaurants and shopping centers, making it easy to turn a charging break into a mini-adventure. Make sure you use a charging station map like Plugshare so you can plan out your charging pit stops.
Fortunately, charging stations are popping up in Texas every month, ensuring that locating one is consistently hassle-free.
Learn how to buy a used car at Public Auto Auction.
State-of-the-Art Charging Networks:
Major automakers and third-party charging networks are rapidly expanding their charging infrastructure. Networks like Tesla's Supercharger and Electrify America are making it easier than ever to road trip with an electric car.
These stations offer high-speed charging (level 3) that can add hundreds of miles of range in just 30 minutes.
The Future of Electric Road Trips:
Electric road trips in Texas are becoming increasingly accessible and enjoyable. With the growing number of charging stations, longer ranges, and faster charging, the future looks bright for EV enthusiasts who love to explore the world one highway at a time.
Can you road trip with an electric car?
A resounding yes! You can reduce your carbon footprint in terms of less gasoline coming from your exhaust and still visit Big Bend, the Texas Hill Country or the cattle drives at the Fort Worth Stockyards!
We'll see you on the auction lot!