3 Most Reliable Car Brands
3 Most Reliable Car Brands for the Texas Buyer
Texans love getting advice but you can't always trust the experts on a lot of things. If you want a real expert however, seek out the humble and the ones with lots of experience. We've compiled three "experts" who have a lot of data backing up their picks for the best car brands for our savvy Texas car buyers.
Data is important for buying a used car. Which car brand is still going after 15 years and 190,000 miles? That's the car brand for me, am I right?! 👏
We have just a ton of car brands at Public Auto Auctions. But which car brands are the best and most reliable?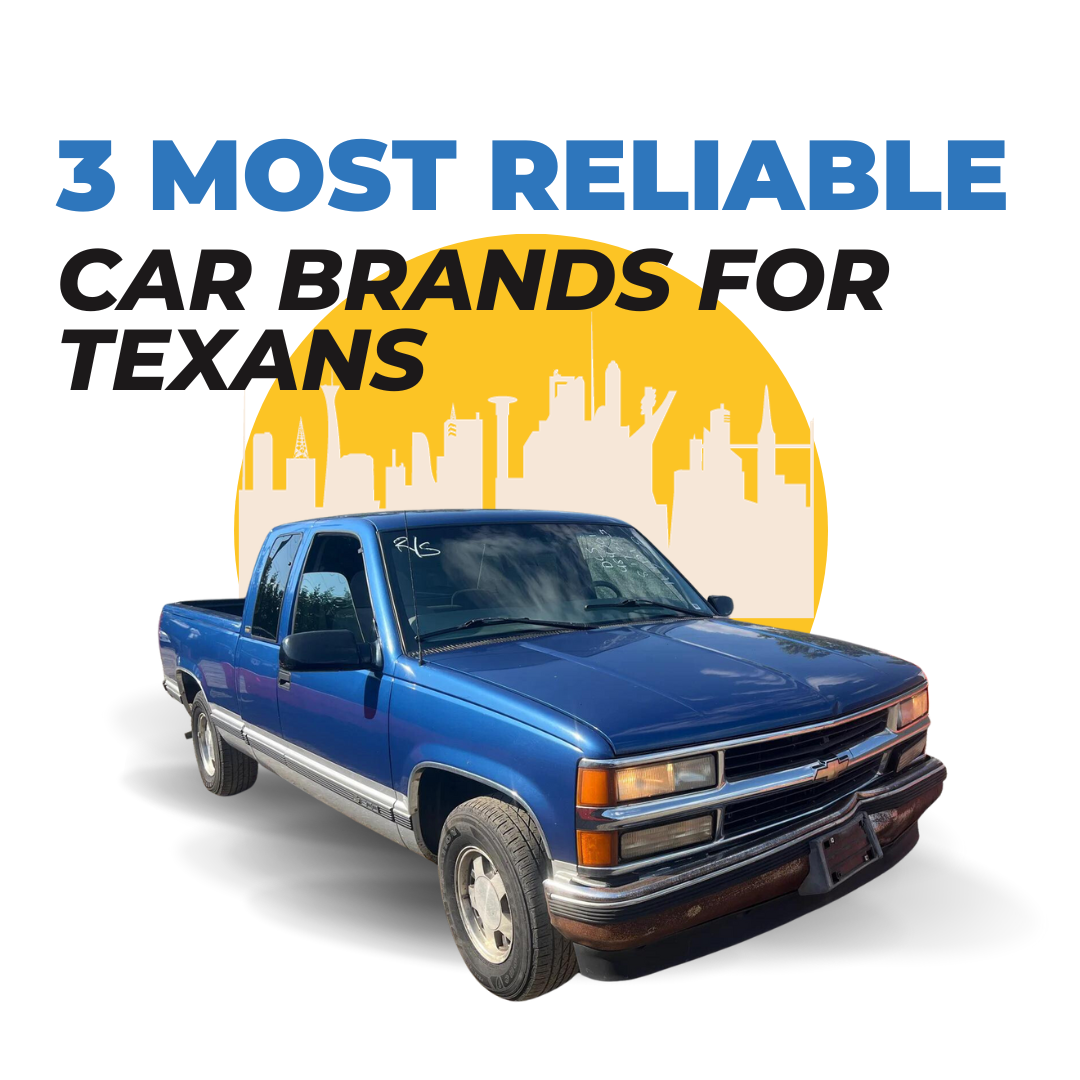 The flashy cars, like the Tesla Model 3, are not always the best for you, especially when you're on a budget and need a solid set of wheels for your driving needs and habits.
We've compiled insights from: 🏆
J.D. Power's 2023 Vehicle Dependability Study (VDS)
J.D. Power's 2023 Vehicle Dependability Study is like a reliability report card for car brand manufacturers, and it surveys owners of three-year-old cars to see how they've held up over time.
Now, we should say that a 3-year-old car is not that old, but, as you'll see, certain of these brands that score well, tend to align with the cars still running after ten, twenty, and thirty years.
1. Lexus
Lexus, a favorite among luxury car owners, ranks highest in overall vehicle dependability. It's part of the Toyota family and has consistently topped the charts for long-term reliability. In fact, the Toyota C-HR and Lexus RX were the highest ranked models in the study!

Toyota as a parent company had six models receiving awards. This is no surprise to us as Toyota, along with Honda, frequently roll through our Kyle auction lot, with 100, 200, even 300,000 miles on the odometer. 💪

Another premium brand, Genesis, also ranked high.
2. Kia
Ranking the highest in the mass market segment, Kia has been here for three years running. Go for the Optima if you want a Kia.

Pro Tip: Kia's tend to be reliable for the first few years, but there are plenty of owners who can't depend on their Kia after 5 or 10 years. It depends on the model.
3. Buick/Chevrolet
A couple American brands here flexing their muscles. These take third and fourth respectively. There is a focus on quality, but again, not all models are created equal. The Buick Encore and Chevy Silverado are among the best offerings from these manufacturers.
Looking to understand the big picture when it comes to the best used cars? Click here for the best used cars. 🚗
Plus, here are the worst used cars to avoid like the plague. 🦟
U.S. News & World Report's Best Vehicle Brand Awards
This is like a beauty pageant for car manufacturers, where reliability and performance are as important as good looks.
The Crowning Moments:
Honda:

Surprise! Honda takes home the Best Vehicle Brand award. This means they not only build reliable cars but also cars that excel in safety and performance while looking good doing it. We love Honda's at the auction lot. They run for years and years, if you care for them. Check out our selection of Honda's!

Hyundai:

Ram:

Ram takes home the Best Truck Brand bragging rights. The Ram 1500 is at the heart of the celebrated lineup of trucks.
Check out our overview of the best used trucks in Texas.
Consumer Reports' Car Reliability and Owner Satisfaction Data
Consumer Reports has been described as the trusted friend who always has the inside scoop on which cars are worth the investment. (valuable friend, let me tell you) 💰
The Reliability A-Team:
Toyota and Lexus:

These two are like the rock stars of reliability. They consistently score high in Consumer Reports' surveys.

Honda:

Honda is another Japanese car brand known for making vehicles that just won't quit. Owners love their Honda's for their reliability.

Mazda:

Mazda is the dark horse in the reliability race. It's been steadily gaining ground and earning praise from both experts and owners.
What's the verdict?
So, what's the most reliable car brand for us Texans?
According to the experts, you can put your faith in a Toyota, Lexus, Buick, Honda, Kia, Chevrolet, Hyundai, or Mazda.
Ask your Texas neighbors too! Anyone with an old used car can, and will, attest to the reliability of the engine under their feet. Browse our blog too, we have lots of articles reviewing reliability as well as budget, like the best used for under $5000, and the factors that define reliability.
Public Auto Auctions has the car brands and the prices to save you money when you buy reliability. We'll see y'all at the auction.