The Best Time to Buy a Used Car in Texas
The Best Time to Buy a Used Car in Texas: A Savvy Shopper's Guide
If you're a savvy Texan (we know you are, why else would you be at Public Auto Auctions?) then you're looking for ways to save money without sacrificing quality all the time. ✊
They say timing is everything, (who's they anyway?) and that applies to car buying too. A frequently asked questions is, "When is the best time to buy a car?"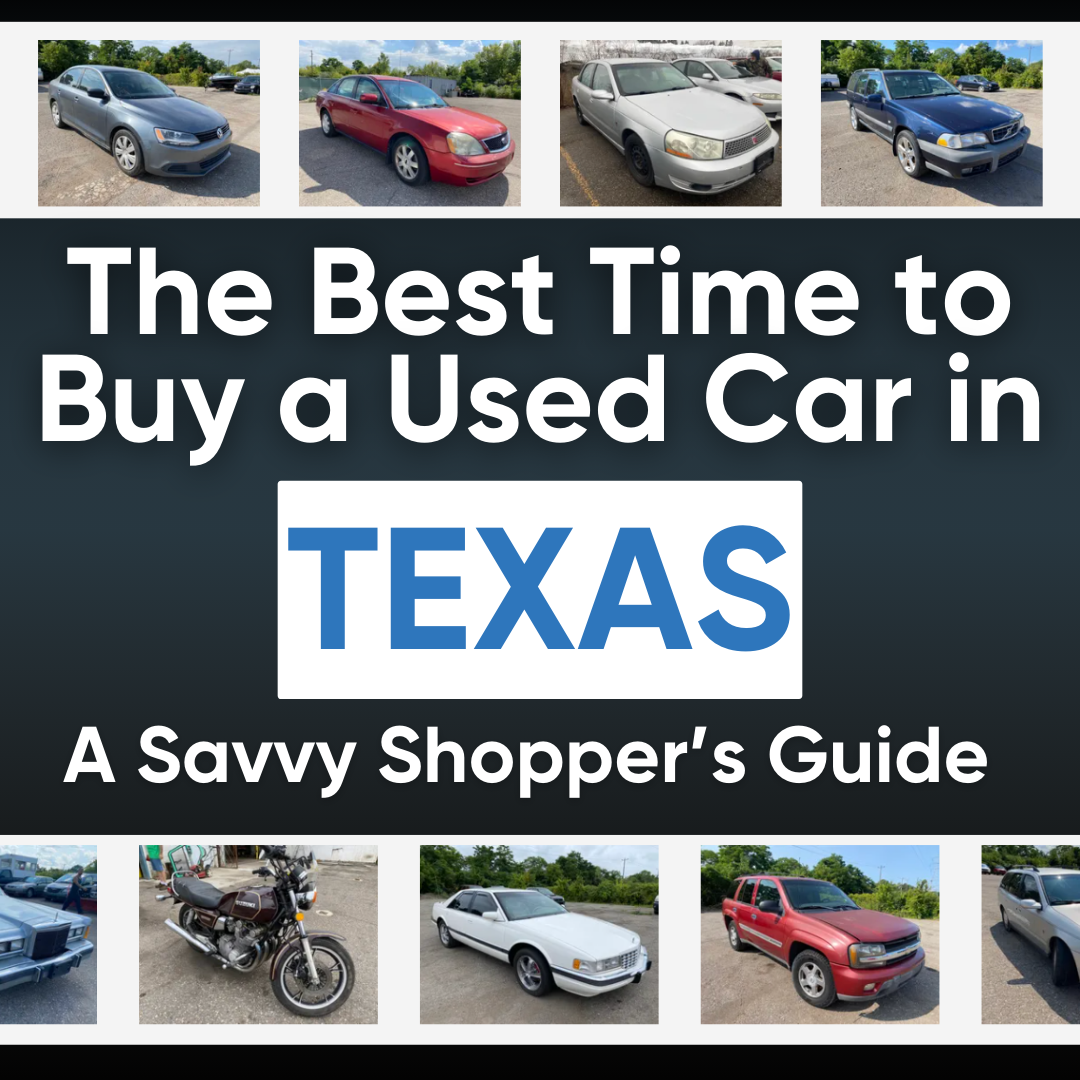 At Public Auto Auctions, the answer is ANY TIME! 🥳 But seriously. Let's explore the best times to buy a used car to maximize your savings.
End of the Month and Quarter
A well-known strategy for scoring a great deal on a used car is to shop at the end of the month or the end of a fiscal quarter (March, June, September, and December). A common rule used by dealers is that if the car hasn't sold within 60 or 90 days, it's sent to the auction. Yay for us and you because auto auctions aren't just for junk and parts. You can find hardworking cars in great condition, as well as the occasional classic.
Understanding that timing can help you know when to check the inventory at Public Auto. Auction lots work different from dealers. I mean, cars are so cheap and bidding can get so competitive that cars with a lot going for them don't stay here for long. 🚗
A car that is not running and needs a lot of work may still sell just as fast as cars in great condition, because of the parts. 💨
Here are 10 great reasons why you should buy used in Texas
Seasonal Changes
Does this mean when it rains harder or the wind stops, or the temperature rises, that cars are cheaper? No, but that would be interesting!
These are the "slower months", fewer people in the market for a used car. You can expect prices and the volume of bids to drop in the fall and beginning of winter.
Dealers in Texas and across the country usually want to clear out older inventory before the end of the year (October, November, and December), creating opportunities for you to snag a better deal at auction on a newer model or recently fixed car.
Spring will typically see a significant increase in the prices of convertibles, road trip-friendly vehicles, and other summer-appropriate cars.
Similarly, acquiring an all-wheel-drive vehicle during the summer is a smart choice since demand, and more importantly, prices, peak during winter.
Auto auctions, like us at Cars, Trucks, and Boats, break these rules sometimes, depending on inventory, since prices are so low at auctions and there is a constant demand for cars at those prices. It can get intense, let me tell you! 🥊
Know what cars are good for. Everything at Public Auto Auctions is good for something, even if only the parts. Trucks are beloved, but can be pricey. You'll find some truly amazing prices on used trucks.
Holiday Sales Events
Labor Day, Memorial Day, Black Friday, other major holidays and year-end clearance sales often bring substantial discounts and promotions on used cars. 🤑
Dealerships and lots use these events to attract customers and move inventory, making it an ideal time to hunt for bargains, as you can bet some of that inventory will go to auctions.
In addition to those traditional sale dates, a great holiday to look at is the new year. As the year draws to a close, lots make one last push to meet annual sales goals. This can lead to fresh inventory and excellent deals.
Buy Before and After New Number Plates Come Out
Purchasing a car just before or after the new number plate registrations become available can be a smart move. Why? Because many individuals hold off on their purchases to obtain a vehicle with the latest plate, meaning they'll say goodbye to their old vehicles in the months around those new plate dates.
Consequently, auction lots see a larger intake in these months, creating a wider selection for potential used car purchasers.
August/October and February/April are the best dates to check out our auction lot, since plates change on September 1st and March 1st.
Timing is Everything
Recapping, our lot in Kyle, Texas rotates inventory year-round. We receive cars mainly from donations, which speaks to their quality (read about if our auction lot is a smart deal here).
Paying attention to all the above; shifts in inventory, when people are buying, when prices go down, etc. indirectly plugs you into when our auction lot will receive new inventory. That's when the magic (the deals) happen! 🎉
Our online auctions are every Saturday at 10 AM central. FAQs here!
Let the bidding begin!